Make Backup and Recovery Your Top Priority
Traditional backup and recovery must evolve.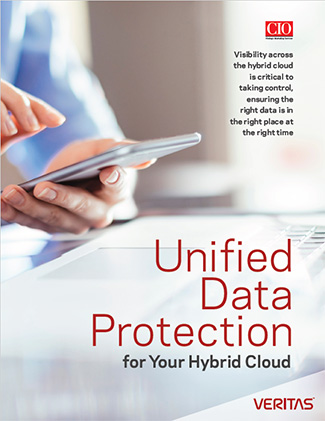 Traditional backup and recovery must evolve to unified data protection across the physical and virtualized infrastructure of the hybrid cloud. The scalability and flexibility of the cloud make it easy to add applications, services and infrastructure to quickly meet digital business needs as they arise. These public and private clouds present unique management challenges, particularly with regard to data protection.

In this Veritas/IDG Tech Dossier, you'll learn:

• How an effective unified data protection solution can help you identify what data is stored where, and what data needs to be recovered quickly.  
• After you gain visibility into what you have across hybrid clouds, you can classify and visually map your data.  
• The ability to classify and map all data visually enables administrators to quickly and easily identify essential and inessential data.
*Required Field
Complete the form to download your free copy.
By ticking this box, you are permitting Veritas Storage Ireland Limited and Veritas Technologies LLC ("Veritas") as controllers of your personal data, to send you marketing communications by email.
You may require us to stop providing these communications at any time by amending your preferences here:
https://www.veritas.com/preferences/form
or by contacting the Privacy Team using the details given below. Should you make this request, we will retain your personal data to the extent necessary to ensure that your preferences are honoured, on the grounds of our legitimate interests in ensuring that we meet your request and comply with our obligations under data protection law. We will also remove your personal data if at any time we become aware that the contact details that we are using for this purpose are no longer valid. Your personal data will be transferred to systems in the United States and accessed and processed in India, as well as the UK and other countries in the European Union. Veritas uses data transfer agreements on the terms of the Standard Contractual Clauses approved by the European Commission to ensure these transfers are lawful.
For questions about your privacy, including to obtain copies of the Standard Contractual Clauses, please contact us by email at
privacy@veritas.com
, or by mail, care of the Legal Team, 350 Brook Drive, Green Park, Reading, Berkshire, RG2 6UH.
Individuals residing in Europe have rights in relation to their personal data, including the right to complain to their local Data Protection Authority. For more details of those rights please see the "Your Rights" section of our online privacy policy at
www.veritas.com/privacy
.