Improving Business Outcomes with Data Management
By 2020, 60% of organizations will have articulated a digital transformation strategy and will be in the process of implementing it.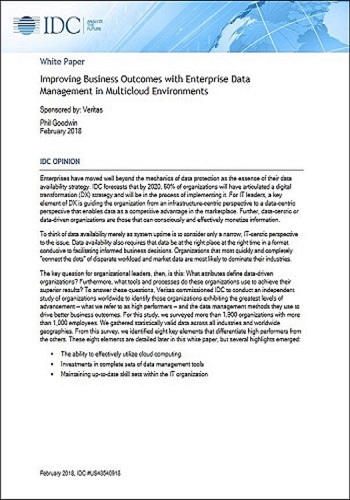 What attributes define data-driven organizations? What tools and processes do these organizations use to achieve their superior results? To answer these questions, Veritas recently commissioned IDC to conduct an independent study of organizations worldwide to examine the data management methods they use to drive better business outcomes. The study reveals that only 19.7% of organizations believe they have the IT skills they need. Additionally, 80% of organizations are failing to meet cloud data recovery service-level agreements (SLAs).
The survey also yielded a number of interesting data points, some of which are alarming. These fall into four categories: permanent data loss, data availability outages, looming cost of compliance failure and cloud data management deficiencies.
*Required Field
By ticking this box, you are permitting Veritas Storage Ireland Limited and Veritas Technologies LLC ("Veritas") as controllers of your personal data, to send you marketing communications by email.
You may require us to stop providing these communications at any time by amending your preferences here:
https://www.veritas.com/preferences/form
or by contacting the Privacy Team using the details given below. Should you make this request, we will retain your personal data to the extent necessary to ensure that your preferences are honoured, on the grounds of our legitimate interests in ensuring that we meet your request and comply with our obligations under data protection law. We will also remove your personal data if at any time we become aware that the contact details that we are using for this purpose are no longer valid. Your personal data will be transferred to systems in the United States and accessed and processed in India, as well as the UK and other countries in the European Union. Veritas uses data transfer agreements on the terms of the Standard Contractual Clauses approved by the European Commission to ensure these transfers are lawful.
For questions about your privacy, including to obtain copies of the Standard Contractual Clauses, please contact us by email at
privacy@veritas.com
, or by mail, care of the Legal Team, 350 Brook Drive, Green Park, Reading, Berkshire, RG2 6UH.
Individuals residing in Europe have rights in relation to their personal data, including the right to complain to their local Data Protection Authority. For more details of those rights please see the "Your Rights" section of our online privacy policy at
www.veritas.com/privacy
.