It's 2017. Do you know where your data is?
With our end-to-end Veritas 360 Data Management Suite, you're always in the know.
Take a 30-minute call and explore how the all-in-one market-leading backup, archiving, and global visibility solution can help modernize your data management. As a thank-you for your time, you'll receive a $50 Amazon gift card.*

In your 30-minute call, you'll learn how an end-to-end data management solution grants you exceptional data visibility and management capabilities through:

- NETBACKUP: Unified data protection for cloud, virtual, and physical environments that delivers required Service Levels all while limiting cost and risk.

- ENTERPRISE VAULT: Retention management for compliance, discovery, and storage efficiency that delivers long-term information management to reduce IT costs and business risk or exposure.

- INFORMATION MAP: Data visualization to reduce risk with an immersive visual experience that lets you gain insight into your structured data.


*Offer limited to the person invited and expires 60 days from the receipt date of invitation. Valid in U.S. and Canada only. No purchase necessary. Void where prohibited by law. Limit one gift card per person. Gift card is emailed to qualified recipient within two weeks of completion of the 30-minute call. Employees or representatives of governmental agencies are ineligible for gift cards. Gift is not contingent upon agreeing to do business with Veritas. You agree to release Veritas from all claims and liability in connection with your participation in this promotion or use of the gift, including, without limitation, personal injury, property damage, and merchandise delivery. Amazon.com is not a sponsor of this promotion. Amazon.com gift cards are issued by ACI Gift Cards, Inc. Restrictions apply to Amazon.com gift cards. Gift cards are redeemable only for purchases of eligible products on www.amazon.com and may not be redeemed for cash unless prohibited by law. See www.amazon.com/gc-legal for complete terms and conditions. Amazon, Amazon.com and the Amazon.com logo are registered trademarks of Amazon.com, Inc. or its affiliates.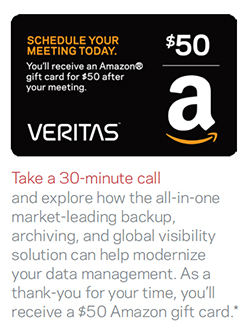 *Required Field
Schedule your meeting today.
By ticking this box, you are permitting Veritas Storage Ireland Limited and Veritas Technologies LLC ("Veritas") as controllers of your personal data, to send you marketing communications by email.
You may require us to stop providing these communications at any time by amending your preferences here:
https://www.veritas.com/preferences/form
or by contacting the Privacy Team using the details given below. Should you make this request, we will retain your personal data to the extent necessary to ensure that your preferences are honoured, on the grounds of our legitimate interests in ensuring that we meet your request and comply with our obligations under data protection law. We will also remove your personal data if at any time we become aware that the contact details that we are using for this purpose are no longer valid. Your personal data will be transferred to systems in the United States and accessed and processed in India, as well as the UK and other countries in the European Union. Veritas uses data transfer agreements on the terms of the Standard Contractual Clauses approved by the European Commission to ensure these transfers are lawful.
For questions about your privacy, including to obtain copies of the Standard Contractual Clauses, please contact us by email at
privacy@veritas.com
, or by mail, care of the Legal Team, 350 Brook Drive, Green Park, Reading, Berkshire, RG2 6UH.
Individuals residing in Europe have rights in relation to their personal data, including the right to complain to their local Data Protection Authority. For more details of those rights please see the "Your Rights" section of our online privacy policy at
www.veritas.com/privacy
.